5 minutes reading time
(1002 words)
Saban On Players Going Out Early For NFL Draft
"Well, yeah." That could have been the answer Alabama Coach Nick Saban gave following the Crimson Tide's second scrimmage of spring football practice Saturday. He had talked about the number of young players working with the team – including 15 true freshmen who were early enrollees from the 2019 signing class -- and the need for those players to develop in order to build depth.
"It's a work in progress," the coach said in pointing out that many of them have not yet reached that level. "We're going to keep working with them to try to get them where they need to be." 
A few minutes later Saban was asked if the loss of seven 2018 juniors – men who could have returned for a senior season but who elected to go into the NFL draft pool – makes a difference in spring practice.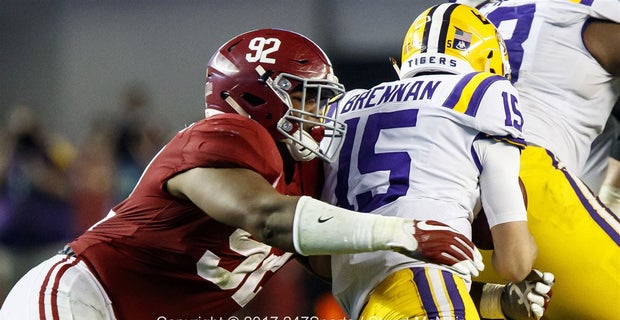 Quinnen Williams made good decision to go out early for NFL draft (Photo: Stuart McNair, 247Sports)
In the past Saban has said that he makes every effort to get good information on "draft grades" for his players to determine if it is a good decision for them to go into the draft. Some are not hard to judge. For instance, defensive tackle Quinnen Williams and offensive tackle Jonah Williams are considered to be high first round selections. Some of the others will be, too, if the mock drafts are accurate.
Others who have departed early are running back Josh Jacobs, tight end Irv Smith, safety Deionte Thompson, linebacker Mack Wilson, and cornerback Savion Smith.
"I think there's no question it's different. But I don't think it's any different here than it is every place else," Saban said. 
"I do know there's some pretty compelling stats out there about guys going out early for the draft. I think in the last five years, not counting this year, there's been 380 or thereabouts go out early for the draft, and 25 percent of those guys didn't even get drafted. And another 25 percent weren't on the team in three years. So, that means 50 percent of the guys that went out early for the draft had failed grades.
"But if you look at the number of guys that were first- and second-round draft picks, there were very few guys that had failed careers.
"Now, we have guys that have no draft grades, seventh-round grades, free-agent grades, fifth-round grades that are going out of the draft. And the person that loses in that is the player.
"If you're a third-round draft pick, and we had one here last year -- I'm not going to say any names [almost certainly Ronnie Harrison] -- goes and starts for his team, so he's making third-round money, which is not that great. He'd be the first guy taken at his position this year, probably, and make $15-18 million more. So, the agent makes out, the club makes out, and now they've got a guy that's going to play for that kind of money for three more years."
An Alabama recruiting advantage as Saban annually attracts classes judged to be at or near the top has been Alabama's success in putting players into the NFL. "Come to Alabama," goes the imagined recruiting pitch, "and we'll get you a big contract like we have with all these others."
And it's not a false claim. Alabama under Saban has been a highly-acclaimed pipeline to the NFL and it's possible riches. In the last 10 years the pros have drafted 77 Crimson Tide players, 26 of them in the first round. 
But with as many as 50 percent of those players nationwide who go out early for the draft having failed careers – either not being drafted, not making a team, or making a team at less than first or second round status and then failing to get a third-year contract (where the big money is negotiated), Saban said he has changed his story to prospects.
"I tell every recruit that I talk to, 'The reason that you are going to college is to prepare yourself for the day you can't play football,'" he said. "I think we have a lot of people way back in high school that look at college as a conduit to get to the NFL.
"I am 100 percent NFL. I am 100 percent guys having careers.
"But people have to be smart about the business decisions they make relative to the NFL because it is all business. And when people make emotional decisions they are going to have to suffer some really difficult consequences for themselves in the future.
 "You don't have to go out for the draft early. You can come back and play.
"We've had six or seven guys who had second or third round grades that became top 15 and first round draft picks and made a significant amount of money by doing that. So there are some really good examples of guys who did it that way. 
"I'm all for every one of our guys who went out for the draft. I'm going to do everything I can do to try get them drafted as high as they can get drafted, because at the point they say they are leaving, because what benefits our program is that they do great and I want them all to do great.
"Not just our players, but there are a significant amount of players that are not making good business decisions about what they do.
"Yeah, it affects our team. But our team turns over more quickly, we just have to have more better young guys that can go out there and learn how to play and provide depth for the team. 
"It's not going to be an excuse for what kind of quality we put on the field. We just have to do a better job of coaching because we've got to do a better job of developing young players because they are going to have to play more quickly."
Related Posts
No response for this article yet.